Scrivo and the
10,000th ZCE
Recently Geert Bergman the main developer of Scrivo became the 10,000th Zend Certified Engineer. Read all about it and our new 'one exam prep question a day' project.

Who's using Scrivo
Numerous organizations from a broad range of industries have chosen Scrivo to meet their professional needs. Take a look and judge about Scrivo's versatility yourself.
Online
Documentation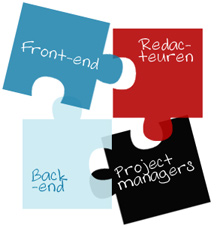 Browse the online documentation and tutorials.
Get Started
Tired of tag-soup? Ready-made templates are not doing the job for you? Do you want to incorporate CMS functionality in your own application? Or do you face enterprise level requirements?

Then you want to try out Scrivo!
Take 5 minutes to download and install Scrivo and discover for yourself how easy it is to apply.